RoboBoat 2024 Competition
Previously at GT MRG…
The RoboBoat Competition challenges students to build and program autonomous surface vehicles. We performed well at RoboBoat 2023, and we're looking forward to improving our vehicle for 2024.
The Crystal Clear Refit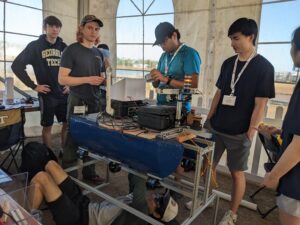 Crystal Clear is our Autonomous Surface Vehicle (ASV) built for RoboBoat 2023! For 2024, we will be building on this platform.
Improvements may include:
Hydrophone development – Localizing acoustic pingers underwater
Water shooter development – Create a pump system with the potential addition of a nozzle aiming system
Ball shooter refinement – Refine the ball shooter design from RoboBoat 2023
Projectile aiming software – Develop algorithms for aiming the water and ball shooters based on target positions
Autonomy software – Develop algorithms for general localization, navigation, and perception
Electrical system upgrade – Upgrade the electrical system for greater stability and power delivery
RoboBoat 2024 Team Roster
This could be you! Join us!