The Mission
Advanced Collaborative Autonomy
The Maritime RobotX Challenge is an international competition where teams from all over the world compete with 16-foot WAM-V robotic boats, which must compete an assortment of complex tasks. These robots navigate through obstacles, listen with a sonar to pingers, and utilize an aerial vehicle to assist in various tasks. The next competition is in November 2022.
Between physical competition years, a virtual competition takes place in simulation. Our team performed very well in 2019, and the Virtual RobotX competition is back for 2021!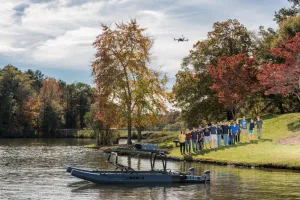 The Team
Our RobotX Team is composed of several subteams focused on integrating different parts of our competition system.
Autonomy
Network and Communications
Power and Propulsion
Drone
Mechanical
Computer Electronics